– January 2020 Scottsdale Housing Market Video –
January 2020 – Video
Here is a one-minute video overview of the Scottsdale, Arizona real estate market for the month of January.
Scottsdale Active Listings
Although the video says inventory was level, there was actually a 2.1% decline in the number of homes for sale between the end of December and then end of January.
Median List Price for Scottsdale Homes
Now we will move on to home prices. This is the median asking price for homes where half of the homes have higher list prices and the other half have lower list prices.
January's median list price was $1,200,000. Last January, the median list price was $879K and last month it was just under $1.2 million.
Days on Market
Days on Market or DOM is a metric that shows us the relative health of a housing market. Low DOM indicated homes are selling faster and a high DOM means homes are lingering on the market.
January's DOM was 81 days and is a bit of drop from last year's 95 days. With our lower local inventory and higher demand, things are selling faster.
Median Sales Price for Scottsdale Homes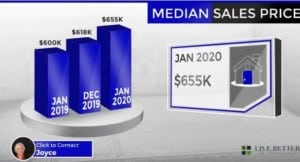 Just like the median list price, the median sales price is the midpoint of all of the prices.
In January, the median sales price was $655,000. This is above January 2019's $600,000 and is also higher than December 2019's $618,000.
Number of Homes Sold
This last section looks at home sales year-over-year and month-over-month.
Sales were up slightly by 2% between January 2019 and 2020.
We saw a 29% drop in sales between December and January. This is not surprising as many people are not shopping for homes over the holidays and fewer contracts were signed in December,
We hope that you found this video and commentary helpful as you gather more information to make smart informed real estate decisions.
For more Scottsdale real estate information or if you have any questions about the local area, feel free to contact Joyce at (480) 209-7843 or Joyce@LiveBetterinScottsdale.com.
Click to watch other videos on our Live Better in Scottsdale YouTube Channel.
Interested in other stats for our market? Visit our Real Estate Market Update page.
Disclaimer: Data deemed to be accurate, but is not guaranteed.